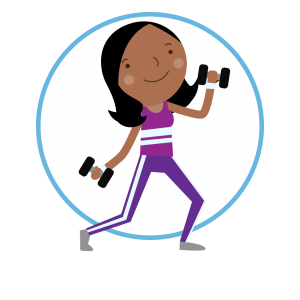 One type of benefit that has broad appeal to staff is fitness-based benefits. The wellness trend was already gaining momentum pre-Covid, pushing fitness to the front of the public consciousness. Between 2011 and 2018, the number of UK gyms doubled, with the fitness club industry in the UK turning over £2 billion.
Employers are waking up to the perks of offering cycle-to-work schemes and discounted gym membership. So, what are the advantages that fitness benefits bring to employees and employers? Let's take a look at the evidence from some recent studies into cycling and general exercise.
Boost to brain power 
Regular exercise has been repeatedly linked to brain health and the reduction of cognitive changes that can leave us vulnerable to dementia later in life.
A 2013 study found that during exercise, cyclists' blood flow in the brain rose by 28%, and up to 70% in specific areas. Not only that, but after exercise, in some areas blood flow remained up by 40%, even after exercise. 
Improved blood flow is desirable because the red stuff delivers all sorts of goodies that keep us healthy. The study concluded we should cycle for 45-60 minutes, at 75-85% of max 'heart rate reserve' (max heart rate minus resting heart rate) four times a week.
Strengthened immune systems cut sick days 
This one's particularly relevant during the pandemic era. Dr David Nieman and his colleagues at Appalachian State University studied 1,000 adults up to the age of 85. They found that exercise had huge benefits on the health of the upper respiratory system, thus reducing instances of the common cold.
Nieman said: "People can knock down sick days by about 40% by exercising aerobically on most days of the week, while at the same time receiving many other exercise-related health benefits."
Tim Noakes, Professor of Exercise and Sports Science at the University of Cape Town, South Africa, also tells us that mild exercise can improve our immune system by increasing production of essential proteins and waking up lazy white blood cells.
Cycling to work can reduce the time of your commute, and free you from the confines of germ infused buses and trains.
There is a but. Evidence suggests that immediately after intense exercise, such as an interval training session, your immune system is lowered – but adequate recovery such as eating and sleeping well can help to reverse this.
Which benefits do most of our clients offer to staff?
Reduce heart disease and cancer risk
Cycling raises your heart rate and gets the blood pumping round your body, and it burns calories, limiting the chance of being overweight. As a result, it's among a selection of forms of exercise recommended by the NHS as being a healthy way to cut your risk of developing major illnesses such as heart disease and cancer.
New evidence was presented in the form of a study conducted by the University of Glasgow, earlier this year. Researchers studied over 260,000 individuals over the course of five years – and found that cycling to work can cut a rider's risk of developing heart disease or cancer in half. The full study can be read here.
Dr Jason Gill of the Institute of Cardiovascular and Medical Sciences commented: "Cycling all or part of the way to work was associated with substantially lower risk of adverse health outcomes."
Improve lung health
You won't be alone if this point seems contradictory to common sense. But studies have suggested that people who ride a bike are actually exposed to fewer dangerous fumes than those who travel by car.
A study by the Healthy Air Campaign, King's College London, and Camden Council, saw air pollution detectors fitted to a driver, a bus user, a pedestrian and a cyclist using a busy route through central London.
The results showed that the driver experienced five times higher pollution levels than the cyclist, as well as three and a half more than the walker and two and a half times more than the bus user. Long story short: the cyclist won.
Rest well
It isn't rocket science that physically tiring yourself out will improve your sleep – but now it's been proven. Researchers at the University of Georgia studied men and women aged 20 to 85 over a period of 35 years, and found that a drop in fitness of 2% for men and 4% for women resulted in sleep problems.
Dr Rodney Dishman was one of the lead authors, and commented: "The steepest decline in cardiorespiratory fitness happens between ages 40 and 60. This is also when problems of sleep duration and quality are elevated."
Looking for causes behind the link the scientists suggested it could be a reduction in anxiety, brought about by exercise, that elevates the ability to sleep. Exercise also protects against weight gain with age, which is another cause of sleep dysfunction.
Employers want benefits to help staff's physical and mental health
Boost mental wellbeing 
Equally valuable to the physical benefits are the mental benefits. A study by the YMCA showed that people who had a physically active lifestyle had a wellbeing score 32% higher than inactive individuals.
There are so many ways that exercise can boost your mood: there's the basic release of adrenaline and endorphins, and the improved confidence that comes from achieving new things (such as completing or getting closer to that goal).
Cycling, running and walking combine physical exercise with being outdoors and exploring new views. You can do them solo – giving you time to process worries or concerns, or you can do them with a group which broadens your social circle.
Former Hour Record holder Graeme Obree has suffered from depression through much of his life, and told us: "Getting out and riding will help [people suffering with depression]… Without cycling, I don't know where I would be."
Better talent
Company culture is a huge element in attracting and retaining top talent, and employee benefits form a significant part of your culture as a business. By offering reduced gym membership packages to your teams, you're demonstrating your commitment to their wellbeing. 
Taking it a step further, it shows you take a holistic attitude to prioritising their physical and mental wellbeing, offering them benefits that have a ripple effect beyond the workplace.
About Enjoy Benefits
To find out more about fitness benefits covered in this blog, take a look at all the benefits we offer, or get  in touch with us for an obligation-free chat.
At Enjoy Benefits, we have great experience in helping companies of all sizes introduce benefits that are suitable for their workplace.
Benefits are easy to set up and ongoing administration is then run through a hub, allowing employees to manage their own benefits while the employer can see which benefits are proving popular and what level of take-up each has had.
If you would like to discuss which benefits might work for your business and your employees, please contact us by calling 0800 088 7315 or using our Contact Form.