What motivates UK employers to provide employee benefits? Is it corporate responsibility? Market forces? Or just good business sense?
It is a question that Enjoy Benefits is well placed to answer, as a leading provider of employee benefits to UK businesses, particularly small and medium enterprises (SMEs).
Enjoy Benefits Director, Vic Johnston, recently dug into this question for his Master's academic research. He wanted to understand what the actual motivating factors were for UK businesses – particularly SMEs – to provide staff benefits.
For his research, Vic reviewed existing literature and research. He analysed data of expenditure on staff benefits from nearly 2,000 businesses, removing commercially sensitive or identifiable information. And he sent an opt-in follow-up survey to participants to provide context to insights from the data.
Savings for every £1 spent
The headline finding is that businesses typically make a return on their investment in employee benefits.
For every £1 spent on employee benefits, on average the companies in the research saved £3.12 in tax and National Insurance savings.
Almost 85% of companies in the initial dataset made a net saving on their employee benefits spending. And the larger the company, the larger the savings.
Most of the businesses in the research were SMEs, often overlooked in other research into employee benefits (which tend to be commissioned by or for large corporations). The UK definition of an SME is fewer than 250 employees.
When you consider that there are only 43,300 businesses with over 50 employees in the UK – but 5.82 million businesses with fewer than 49 employees – Vic's research arguably gives a clearer picture of the true value of employee benefits in business.
'Misconceptions' around costs
Interestingly, the businesses who opted into the follow-up survey indicated they believed they were making a loss on their provision of employee benefits.
In the survey, 88% of respondents thought that their benefits scheme was costing the company more than it saved.
This was a stark case of the 'sentiment' expressed in the survey not matching the actual data.
'Caring' reasons for offering benefits
When asked an open-ended question about why they provided employee benefits, most of the respondents used 'caring' words. This is clearly demonstrated in the word cloud below. It shows the most commonly used words in responses to this survey question: "Please provide your thoughts on employee benefits and what motivates your company to select and provide or deny such benefits to your staff?"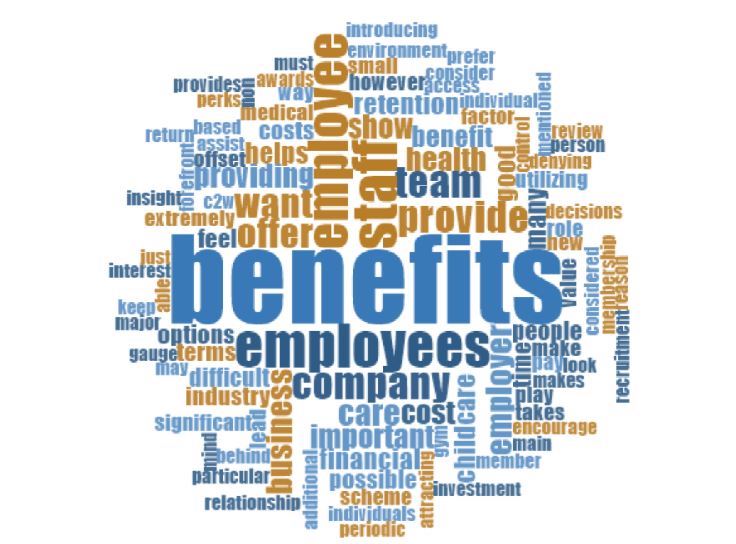 And when asked how they used employee benefits, 'assisting staff' came through most strongly. It ranked higher than more self-interested uses like 'attracting staff' and 'retaining staff'. This is illustrated in the graph below.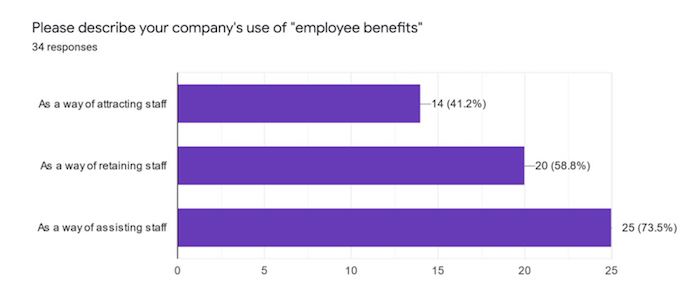 So businesses tend to believe that employee benefit schemes assist staff, both financially and in their lives outside the workplace. And this helps those businesses attract and engage staff.
All of this is true, what the new research reveals is that this all occurs with financial advantage to the business as well – £3.12 in savings for every £1 spent.
Remember, nearly 90% of businesses surveyed believed it was happening either at a loss or with no financial advantage to the business.
It's clear that perception around the costs of employee benefit schemes is different to reality.
Clear-cut wins for reward schemes
So, let's return to the original question.
What motivates UK employers to provide employee benefits? Corporate responsibility? Market forces? Or good business sense?
We now know that the answer is all three.
"Finding out that employee benefits improve a company's finances is a game-changer."
Employee benefits are not only good for staff, but they're also good for business. And taken together, that's all the motivation any employer needs.
If you've found this article informative, see Vic Johnston's research into the need for effective communication by employers for employee benefits also on this blog.
About Us
At Enjoy Benefits, we have great experience in helping companies of all sizes introduce benefits that are suitable for their workplace.
Benefits are easy to set up and ongoing administration is then run through a hub, allowing employees to manage their own benefits while the employer can see which benefits are proving popular and what level of take-up each has had.
If you would like an obligation free chat to discuss which benefits might work for your business and your employees, please contact us by calling 0800 088 7315 or using our Contact Form.