By Anne Earley
How does your working day begin? Do you spend an hour or more in your car, negotiating your way around traffic jams, road works, and other obstacles? 
Of course, today it's all about home working. But what if your job doesn't allow you to start your morning with an online yoga class followed by freshly brewed coffee in the garden office? How are you going to stop your daily commute from being the death of you?
Rethink your commute 
Most frazzled commuters don't take kindly to hearing they should exercise more. 'I don't have time for exercise,' you scream as you manoeuvre into the last space in the car park only to find it is too small for you to open your car door. 
Think again. If you turn that car journey into an active commute, you could improve your mental and physical health and arrive at work in a different frame of mind. And you'll also be reducing your carbon footprint and contributing towards a greener future.
What is active commuting?
'Active commuting' means ditching the car and cycling or walking at least part of the way to work. It will allow you to add a much higher level of activity into your daily routine without needing to find time for the gym. A more active commute means that you could easily smash the NHS exercise recommendation of 150 minutes of moderate exercise each week.
One of the most popular employee benefits that makes active commuting so much easier is the cycle to work scheme.
The benefits of cycling to work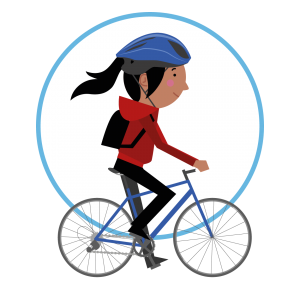 As a driver, you may find the lycra-clad community annoying, but if you were to join them, you might have to eat all those words you shouted at them from the safety of your car. 
Recent research has shown that cycling to work for five years can cut your risk of death from cardiovascular disease, cancer, and all other causes by an astonishing 41%! 
If you live in a congested area, you may get to work quicker on two wheels than four. 
You will need a good bike, helmet, and all the usual safety accessories. These can be costly, but with the cycle-to-work scheme, you'll be quids in. Participation in the scheme could bring some serious savings. For example, you may be able to buy a £1000 bike for less than £700. And the discounts apply to accessories too.
This is one of the most popular employee benefits, and if you're an employer thinking of adding it to your staff perks, there are these positives:
No costs to your business to implement

Contributing to reducing carbon emissions

​​

Positive public perception

Enjoy Benefits

undertake all the administration
Find out more about adding Cycle to Work as a benefit if you're an employer. And if you're an employee, find out how to join and what savings you can make.
Walking to work is a great way to start the day
Walking is the less glamorous sibling of cycling. It doesn't have its own Day-Glo uniform but nor does it require any special equipment and it is free. Walking packs quite a punch when it comes to improving your health. The list of health benefits from walking at least 30 minutes a day is impressive. It's excellent for lowering blood pressure, improving circulation and bone density, and can help with weight loss. It also elevates mood by encouraging the release of those feel-good hormones, endorphins. It is weight-bearing but low impact, so easier on the joints than running. Walking seems to clear the mind and helps you think things through. You will likely arrive at your desk feeling much calmer than commuting by car.
Mixing things up
It may be unrealistic for you to walk or cycle all the way to work, meaning that you may have to take a train or bus part of the way. You could ride your bicycle to the station and take it on the train or walk to the station, take a train and then walk to your work across town. Don't dismiss the old advice to get off the bus a few stops earlier and walk the rest of the way. Every bit helps.
Active commuting is great for the planet!
In 2017 transport was the most significant contributor to greenhouse gases in the UK, with 25% of that figure coming from business transport. Of course, electric and hybrid cars are becoming more popular now, but the impact of commuting by car on the environment is still enormous. Let's face it. All this driving is killing both you and the planet. It's time to think of a better way to get to work for all of us!
About us
At Enjoy Benefits, we have experience in helping companies of all sizes introduce benefits that are suitable for their workplace.
Benefits are easy to set up and ongoing administration is then run through a hub, allowing employees to manage their own benefits while the employer can see which benefits are proving popular and what level of take-up each has had.
If you would like an obligation free chat to discuss which benefits might work for your business and your employees, please contact us by calling 0800 088 7315 or using our Contact Form.