Enjoy Benefits director Vic Johnston recently completed academic research into employee benefits for Salford Business School. His key question was: What motivates UK businesses to provide employee benefits? 
The question was carefully crafted to delve into the intentions as well as the outcomes of offering employee benefits. 
In order to understand what the true benefits are, as well as who really gains, he started by reviewing all the well-known previous studies about employee benefits. 
He also considered data available to him in his role at Enjoy Benefits, analysing expenditure and savings on employee benefits of nearly 2,000 UK businesses, most of them SMEs. 
Finally he asked some of these businesses directly about their reasons and expectations around offering salary sacrifice and reward schemes to their staff. 
Here's what he learned.
Employee benefits: 10 fresh facts
Previously in this blog, we've looked at some of the main findings from his report. This post will revisit those, and highlight other interesting takeaways from Vic Johnston's study. 
It's hoped these 10 facts about employee benefits will help organisations understand the considerable role that staff rewards and salary sacrifice schemes play in employee satisfaction and business success.
Staff benefits save businesses money
That's right. For every £1 spent, employee benefits save a business money in National Insurance savings. Could there be a more clear cut reason to invest in a benefits scheme for your company? You can take a closer look at the data here.
Benefits save staff money
This is obvious and tends to be one of the main reasons employers offer benefits schemes – to support and assist their staff. Health and dental insurance, childcare and nursery vouchers, discounts on tech and transport benefits are among the most popular money savers.
Employees use on average four benefits
Having a range of benefits is a good idea, because Vic Johnston's research showed that employees use on average four benefits. So once staff engage with your business's benefits scheme, they tend to find more than one to enhance their lives.
More benefits leads to more savings
The businesses where employees used more benefits made bigger overall National Insurance savings, Vic Johnston's research revealed.
Communication is key
Given that once staff engage with rewards programmes they tend to use more than one benefit, it's worth making sure your benefits scheme is well signposted and communicated. See this post for tips on good communication of rewards schemes.
Staff value flexibility
The most popular employee benefit is flexible working. So although there are a range of benefits which offer discounts on essentials like childcare and household brand, what people value is being able to control their work-life balance.
Childcare and nursery vouchers are popular
This is a benefit that is widely used by employees who need them for their time of life. So while it won't benefit all of your staff, it's viewed as extremely valuable by parents of young children, and offers support to working families.
EAP is growing
Mental health support schemes are increasingly offered by employers. The pandemic put a spotlight on employees' mental health, and that hasn't changed with the transition back to office life. Of the UK employers who offer employee benefits, 83% offer EAP (employee assistance programmes).
Employers want to help staff
When asked in a survey their reasons for providing employee benefits schemes, employers indicated overwhelmingly that it was to assist and support staff, rather than to benefit the business. The word cloud below shows the types of 'caring' words that respondents used when describing their reasons for offering benefits schemes in the survey.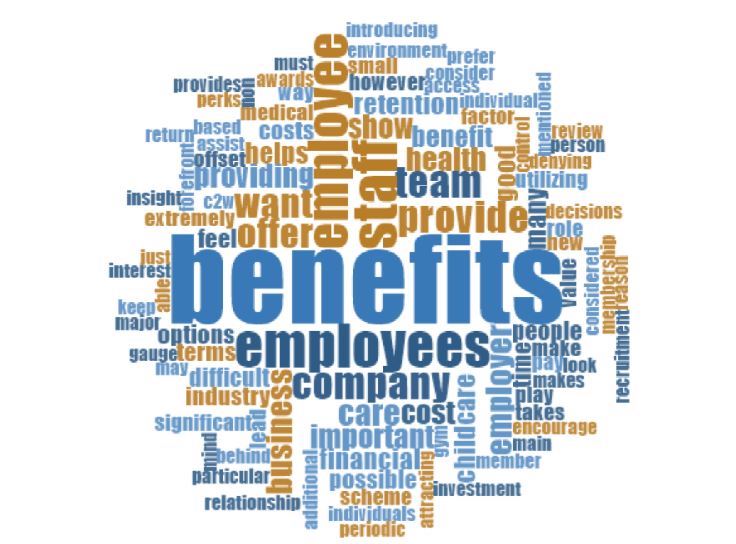 Financial gains to businesses 'unexpected'
Vic Johnston's research found that businesses generally expect employee benefits schemes to cost the business money, rather than make savings. This was an example of the sentiment expressed in the survey being different from what the actual data showed.
What did we learn?
So, back to Vic Johnston's original question: 'What motivates UK businesses to provide employee benefits?' The answer is that it benefits businesses financially. And at the same time, it supports and assists staff. Vic Johnston's review of previous studies also confirmed that employee benefits help with staff attractions and retention, as well as motivation.
Put simply, employee benefits are a win-win all around if you're in business. 
And you are in the right place if you'd like to jump on board and start offering benefits to your staff. Or maybe you're thinking of adding more to the ones you have?
We are experts in providing employee benefits and can help you provide the right range for your business. You can read more posts about Vic Johnston's research and findings in the Enjoy Benefits blog.
About Us
At Enjoy Benefits, we have great experience in helping companies of all sizes introduce benefits that are suitable for their workplace.
Benefits are easy to set up and ongoing administration is then run through a hub, allowing employees to manage their own benefits while the employer can see which benefits are proving popular and what level of take-up each has had.
If you would like an obligation free chat to discuss which benefits might work for your business and your employees, please contact us by calling 0800 088 7315 or using our Contact Form.